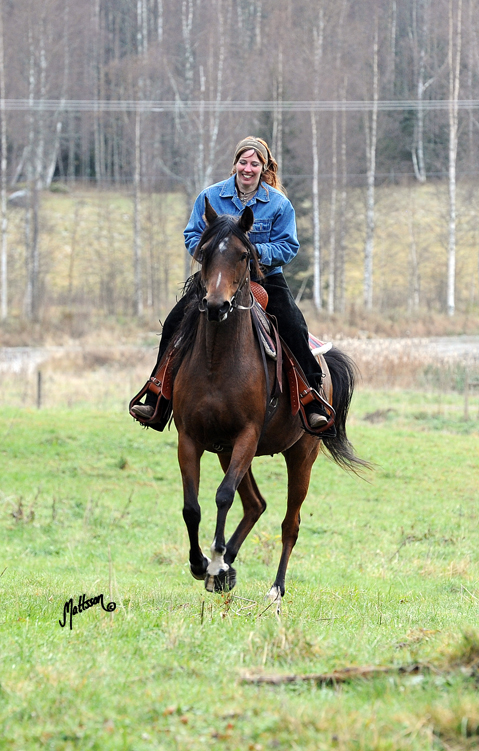 I have had the great opportunity to grow up with Arabian horses next door and this have led to a life filled with joy and great friends. Brita and Rolf Axelsson at Wilkesbacka Gård started their Arabian breeding in 1967 and they are the breeder of Edjora (Exelsjor-Edessa/Pietuszok), the dam of US National Champion Mare Kajora. I spent all my free time there since I was 12 years old and I had the great fortune to learn all about breeding, showing and training. The horses of Wilkesbacka were of pure Polish bloodlines and I learned to love all about the strength and beauty of the Polish Arabian.
In the summer of 1985 when I was 15 years old, I worked at Cavallo Arabian stud. I wanted to learn more about this wonderful breed and I finally got to attend my first National show. At Cavallo I had the fortune to work with the Polish-bred stallions Figaro (Negatiw-Fortunata/Branibor) and Dylemat (Gedymin-Doliwa/Comet) and my interest in the Polish Arabian horse increased.
When I graduated from school I decided to work with horses. I worked at Beit El Kheil Arabians and had one of the best teachers when it comes to Polish Arabians, Erik Melander. We had several outstanding horses at stud, including the stallions Etnograf (Engano-Etna/Faher), Karnawal (Etap-Kasta/Wielki Szlem), Parys (Tryptyk-Parma/Aswan) and Exodus (Cadyk-Ex Diara/Exelsjor). The mare-collection was impressive with Ex Diara (Exelsjor-Diara Mokka/Wielki Szlem), Salamalaika (Algier-Salexja/Exelsjor), Zadra (Dambor-Zamiec/Czardarsz), Zaduma (Bandos-Zadra/Dambor) and Epopeja (Palas-Eskapada/Nabor) and their daughters.
During the summer of 1988 I worked at Ekströms Training Stable. We had 17 horses in training and the highlight of the season was Parys – 1988 Swedish National Champion Stallion and 1988 World Reserve Champion Stallion and Saleta (Etnograf-Saldara/Dardir) – 1988 Swedish National Junior Champion Mare. Other horses in training were Etamina (Ellorus-Etna/Faher), Etheria (Palas-Etamina/Ellorus) and Eleis (Banat-Elewacja/Celebes). I worked with Carmen Romes (Vanier Arabians, USA) and we had Greg Hazlewood as the handler at the Nationals.
My first visit to Poland was in 1989. Horses like Zazula, Palas, Eukaliptus, Europejczyk, Kawalkada and Wizja made a great impact on me and since then I have made this trip as often as I could. I simply love the country, the people and their extraordinary horses! Poland is the place where I have met some of my very best friends and it is hard to not fall in love with this country.
I bought my first mare Sapala (Cadyk-Saldara/Dardir) in 1991 from SalEx Arabians (former Beit El Kheil Arabians). Salaterka by Elton is the daughter I have chosen to continue her legacy. I got the wonderful opportunity to have the exquisite Wiona (Angor-Warszula/Palas) from Kullatorp Arabians in 2002. She was a beautiful mare with a lot of her expression from her legendary dam Warszula.
I knew early that I wanted to work as a journalist and a photographer and I have had the great opportunity to do it with Arabian horses! I really love to capture the beauty of the Arabian horse and the challenge to get the best shot possible on each horse. My work makes it possible to travel and meet lots of fantastic people and their horses. I feel very fortunate to be able to work with the things that I love most.
For inquiries please contact:
Anette Mattsson – Mattsson Photography
Bergsveden 24
S-78192 Borlänge
Sweden
anette@arabitis.com
+46 70 753 10 75